Revolutionary Strides Being Made with Cranes, Conveyors and Equipment Options for Ports Equating to Drastic Changes in Operations and AestheticsBy Lori Musser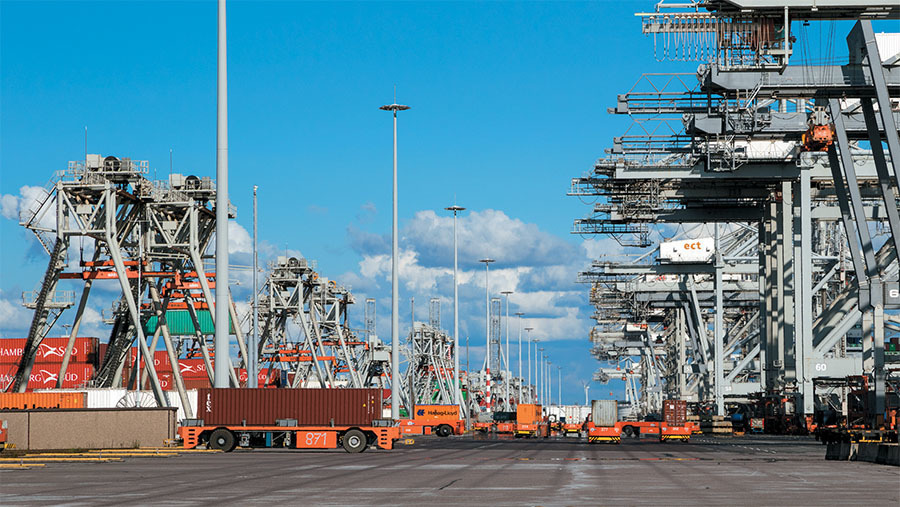 One of the few constants in the dynamic field of seaport operations is that cargo must move between ships and other modes. But the cranes, conveyors and other equipment that shift cargo from ship to shore-based mode of transport, and back again, are not the same as they used to be.
Freight and passenger handling equipment are changing. Innovations related to technology, size, speed, cost, reliability, sustainability, and even aesthetic improvement are coming on fast, stimulated largely by the big-ship era and environmental mandates.
ALREADY DEPLOYED Two Twenties at Once
Ceres Terminals Canada at the Port of Halifax operates several super post-Panamax cranes. Ceres's senior vice president, Calvin Whidden, said, "They are capable of reaching 22 containers across the vessel, and measure 140 feet from the bottom of the spreader to the dock (versus 82 feet on the gantry cranes they have replaced). They operate up to three times faster. These new cranes can lift two twenties at once." He added, "Our record is 76 boxes in one hour on one crane." That level of production was unheard of two decades ago.
EQUIPMENT FOR TOMORROW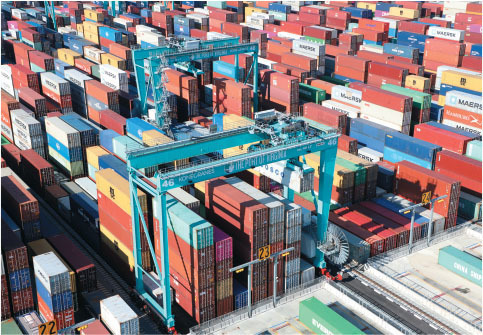 The Port of Virginia says it is the port of the future and that it is building that port today.
February 2018 marked an incredible milestone for the port, as the first of 86 new rail mounted gantry (RMG) cranes arrived. The investment represented the largest single purchase of cranes in industry history, according to Jay Stecher, vice president of marketing and communications for The Port of Virginia.
Port facilities are undergoing a $700-million capacity expansion. John F. Reinhart, the port's CEO and executive director said, "We're doing this because it is important to Virginia but also to the economy of the United States to have state-of-the-art ports that can handle the largest ships sailing the ocean."
Shawn Tibbetts, the port's COO, said the annual capacity of Virginia International Gateway (VIG) is being doubled, and the lift capacity of the South portion of Norfolk International Terminals is increasing by about 400,000 lifts. Electric RMG cranes are much kinder to the environment and much more economical, according to Tibbetts, "…because we can do more with less, and from a real estate utilization perspective, we can stack more containers and have more throughput on a per-acre basis than ever before." Doubling capacity without adding a square inch to the footprint is a remarkable feat, but achievable through a switch from a straddle carrier to an RMG operation.
Stecher said October 2018 statistics – the heart of peak season – showed that at VIG more than 14 percent of trucks turns took two to four hours. In June 2019, the port was handling nearly the same volumes as in October, but more than 80% of turn times were under 60 minutes, and only approximately 1.5% of trucks experienced turn times over two hours. Stecher said that this was due in large part to the advanced software used to run the cranes and manage the reservations at the gates. "Our software helps us manage our cargo flow more efficiently and effectively. We are able to plan moves further ahead. We are able to 'groom' the stacks. If you are a motor carrier coming the next day at 9 a.m. we can methodically move your container to the front of the stack over the course of a day so that it's nearby when you arrive. That saves time."
Rich Ceci is the port's senior vice president of projects and technology. He said that the port's cranes are faster, "and more capable certainly than anything in the United States and anywhere else in the world right now."
"When you look at the investments we are making – a million containers of capacity – what does that mean? Well, the gates will now be bigger, gates will be faster, we'll have more places to deliver freight to our motor carriers so that would mean a better turn time, a better experience visiting the port and more velocity across the port," said Reinhart. For the shipper, there is opportunity to move more cargo through Virginia to and from more markets. "The mission of The Port of Virginia is to be a steward of tomorrow, and what we're doing is bringing tomorrow to you today with these investments," said Reinhart.
Fast, efficient gantry cranes must be served by fast, efficient yard equipment. Whidden said that Ceres' new rubber-tired yard cranes (RTGs) are twice as high and twice as fast as their predecessors. They can also lift two twenty-foot containers. "The entire cycle is handled as if you are doing one box, but you are moving two." The increased velocity, along with 12,500 feet of on-dock rail, means an entire ship can go to rail and be turned without delay.
Higher Reach
Neo-Panamax cranes – those that serve the largest vessels that now travel through the new neo-Panamax locks of the expanded Panama Canal – are showing up at ports throughout the Americas. The Georgia Ports Authority introduced four neo-Panamax cranes; it now has 27 in its ship-to-shore fleet – more than any other single terminal in the nation according to the port. Another six will arrive in 2020.
"They operate up to three times faster… Our record is 76 boxes in one hour on one crane."
—Calvin Whidden, Ceres Terminals Canada
The new cranes are tall enough to lift containers 152 feet above the dock. The cranes allow the port to move nearly 1,300 containers per hour over a single dock.
Lower Emissions
In March, SSA Terminals at the Port of Oakland's International Container Terminal introduced the first of 13 hybrid diesel-electric rubber-tired gantry cranes. The RTGs are being retrofitted and the port anticipates elimination of more than 45 tons of exhaust emissions annually. Operating primarily on electricity (with diesel used only for battery charging), greenhouse gas emissions from the cranes are expected to fall by a minimum of 40%.
The rest of the hybrid crane fleet should be up and running next year. The conversion involves installation of new batteries and smaller diesel backup engines. (See sustainability article on page 39.)
At the Port Authority of New York and New Jersey, electric trucks are beginning to reliably replace industrial diesel vehicles. Battery-electric yard trucks can have zero emissions. The port recently conducted a demonstration project using a battery-electric BYD Class 8 yard truck. The truck has a 10+ hour operating range on a single charge, and is a 1-1 replacement for the diesel yard trucks that currently operate at the port authority's Red Hook facility in Brooklyn.
Charles Liou is manager of environmental initiatives at the Port Authority of New York and New Jersey. He said, "As a landlord port, we collaborate with maritime users (who own and operate the equipment) on studies or testing of emerging technology that improve efficiencies and/or address environmental concerns. We have tested hydraulic-electric and battery-electric terminal tractors to understand their operability, hybrid terminal tractors to evaluate their fuel reduction potential, and are in the process of supporting a pilot project that Maher Terminals LLC will undertake to become the first port in the U.S. to utilize battery-electric straddle carriers."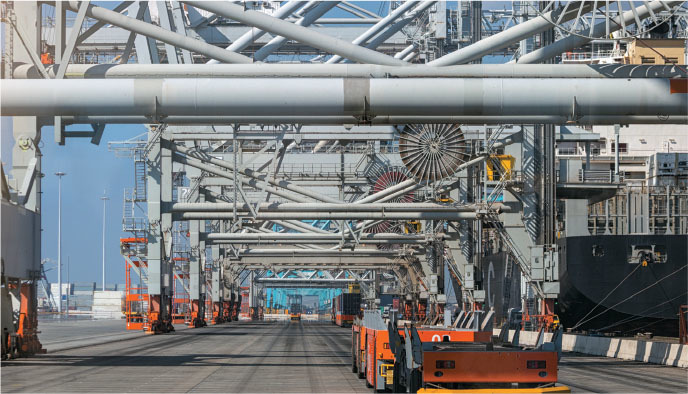 "We have tested hydraulic-electric and battery-electric terminal tractors to understand their operability, hybrid terminal tractors to evaluate their fuel reduction potential, and are in the process of supporting a pilot project that Maher will undertake to become the first port in the U.S. to utilize battery-electric straddle carriers."
—Charles Liou, Port Authority of New York and New Jersey
Liou added, "Some of these projects have yielded success, while some [have provided]lessons learned. Being able to proactively learn about the efficacy of these new technologies and the results they could produce not only informs the port and its users on the planning process but also helps avoid unintended consequences that could be brought on by regulatory agencies."
Regenerating Power
Many new cranes are able to capture enough energy while lowering boxes to power themselves for part of the time while picking up boxes. For ports with existing cranes, regenerative retrofit packages are available. The energy created can feed into a battery bank and be stored, essentially helping pay for the regenerative infrastructure.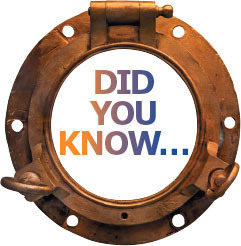 CONTINGENCY PLANS AND PREPAREDNESS ARE NOT A SUBSTITUTE FOR RESILIENCY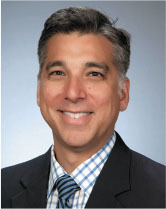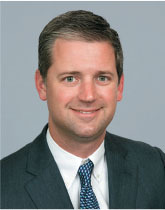 Baton Rouge-based consulting firm CSRS, Inc. has a mission to build stronger, smarter communities and that includes the seaports that are integral to so many. It is looking at contingency planning and disaster recovery in a whole new way.
While many ports and communities focus on how to recover quickly after a hurricane or similarly disastrous event, Donald Brinkman, CSRS' sector leader for Southwest Louisiana & Ports, said that more can be done. Adding a layer of resiliency to a community can allow it to survive, adapt and thrive in the face of change.
Mark Goodson is the resilience practice lead for CSRS. He said, "A resilient port/city doesn't look much different than any other city/port. Though vitally important, resilience is not necessarily readily visible to the untrained eye. A resilient city is one that is not only prepared for the risks it can see and predict, but also one that has the ability to adapt to unforeseen changes in the future."
Whereas a contingency or preparedness plan may focus on what to do before or after certain event(s), a resilience plan (or strategy) takes a systems-based approach, looking at how you can integrate risk management into everything you do. Goodson explained, "For example, if your capital plans call for the construction of a new road, should you look at future flood projections and make sure the road is built at an appropriate height, so that it will still be there in 20-30 years?"
Brinkman said, "An obvious benefit is that your port is more sustainable on several levels. The costs, obviously, depend on your level of risk, your risk tolerance, and the investment required to mitigate that risk(s). Oftentimes, it can be tiered such that investments can be balanced with risk tolerance, which can help keep costs down. The benefits can include avoided losses (including disruption), lower operating costs, reduced insurance premiums, plus environmental and social benefits."
CSRS' resiliency planning is innovative in its comprehensive approach – managing risk across infrastructure, environmental and economic systems. "The result is a smarter, more efficient way of reducing risk, which maximizes benefits. For example, if you need to manage storm water and can do so by creating or conserving a green space, you have reduced your flood risk while also providing new recreational space or wildlife habitat," said Goodson.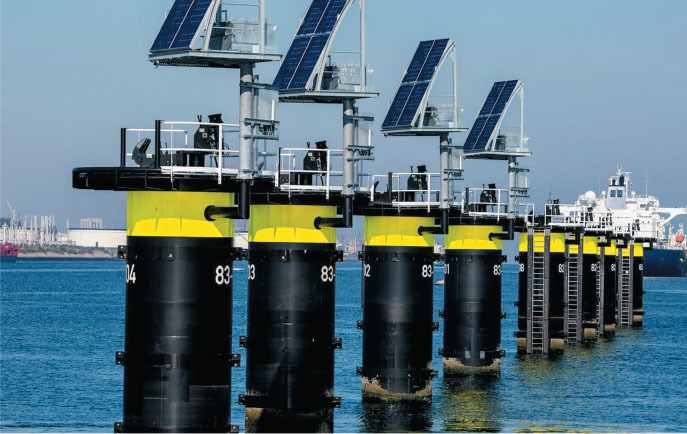 Intelligent Transportation
GCT Bayonne has an award-winning industry-leading Truck Reservation System (TRS) in place. Launched in early 2017, the system uses radio frequency identification (RFID) tags on pre-registered trucks and high-speed optical character recognition (OCR) at the gate. Even the delivery of this system was innovative, as it was jointly funded and developed by a consortium of six of the port's marine terminal operators, and it included extensive outreach to the freight community. One year after its introduction, the RFID/OCR-based system had improved truck turn times by 41%, ensuring most trucks were in and out in under an hour, and allowing about 300 transactions per hour.
The system smooths out traffic flows over peak hours, and as a bonus, has improved GCT Bayonne's non-appointment times significantly, boosting port efficiency and mitigating congestion.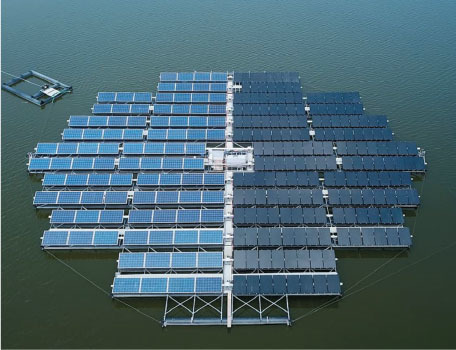 Horizontal Movement
Cargo handling equipment manufacturers continue to evolve their products. Kalmar, for example, has unveiled an autonomous reach-stacker concept that can turn its wheels to move horizontally, is automatically counterbalanced and able to self-charge. It can also self-diagnose and repair.
HOW TO SPOT A SMARTPORT
While the definition of a smart port is subject to debate, the industry consensus is that Rotterdam makes the cut. Jouke Goslinga, programme manager at the development and educational entity called RDM Rotterdam, says that a smart port is a port full of opportunities. According to Goslinga, "New technologies and unlimited opportunities of technology combined with design are what make this a great era." Examples of smart port innovations cited by RDM Rotterdam follow:
X Laboratory uses robot arms to construct simulations for the offshore industry.
Start-up Concr3de uses sustainable concrete for 3D printing of complex components for construction including port applications.
McNetiq has developed magnetic anchoring to attach scaffolding to steel walls without welding.
'Truck tinder' is an app that matchmakes shippers and trucking companies to form truck platoons (multiple trucks traveling in convoy using automated driving support and connectivity), cargo bundling and trailer swapping.
The Hague-based GBM Works has developed a noiseless method for sinking monopiles into the sea bed.
Working in partnership with Damen Shipyards Group, RAMLAB has manufactured the world's very first 3D-printed ship propeller.
The Port of Rotterdam says it aims to be the world's smartest port. It is already the biggest port in Europe with a strong presence in transportation, logistics and energy. SmartPort is a partnership between the port, municipality, educational institutions and others. It stimulates and finances scientific research for and by companies in the Port of Rotterdam, in partnership with knowledge institutes.
The port emphasizes its commitment to innovation as a path to success during an era of "energy transition and digitization" via a continuous search for ways to do things smarter, more efficiently, better and more sustainably. That search incorporates open data, Internet of Things, sustainable energy or the exchange of residual products, among other opportunities.
Some of the port's smart strategies include the recently launched PortXchange (a platform to exchange data with other ports, businesses and clients), Launchlab (a start-up accelerator and investment fund for port-related innovations), facilities and space to develop and test prototypes, and an innovation ecosystem, supporting innovators in all phases, from idea to validation to prototyping to scaling.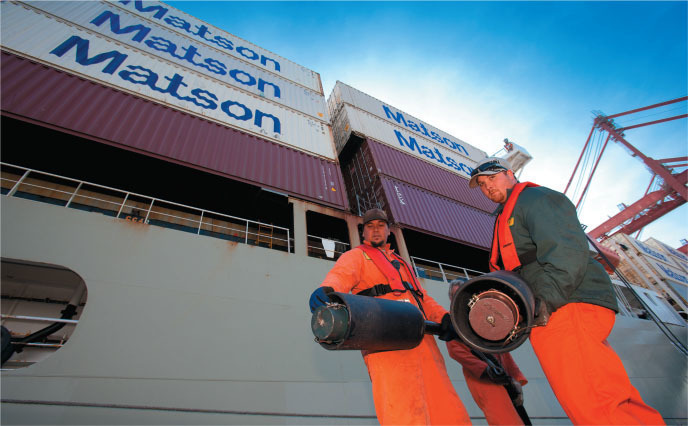 Fast Charging Batteries
The Port of Long Beach has undertaken a $16.8-million project to build infrastructure that supports electric-powered, zeroemissions cargo-handling equipment. The project will also demonstrate the world's first heavy-duty, off-road, direct current (DC) fast-charging system. Charging outlets will be designed and built for specific units of electrically powered terminal equipment. Four battery-powered yard tractors are being modified to connect to a DC fast-charge system. If it proves viable, the terminal may not need on-board equipment chargers and there may be an increase in battery capacity for electric vehicles.
Automation at America's 'Most Advanced Terminal'
Long Beach is one of automation's early adopters. Port of Long Beach Executive Director Mario Cordero said, "Long Beach Container Terminal (LBCT) is the most advanced terminal in the United States. At full build-out in 2020, LBCT will be able to move 3.3 million TEUs a year."
More than $2 billion in port and terminal operator investments have been made at the automated terminal. "We're always looking to improve our competitiveness. One of the ways we do that is by increasing productivity, and we think having modernized infrastructure – not necessarily automated – helps to keep attracting cargo to our docks," said Cordero.
LBCT is the only one of six Long Beach container terminals that is automated. "The terminal is operating very well and boosts our competitiveness, which keeps the cargo flowing through Long Beach and keeps people employed at this port in every role," said Cordero.
The port's Middle Harbor development is almost complete and features electric rail-mounted gantry cranes (RMGs) in its stacking yard, shore power connections and solar panels.
WHAT'S ON THE DRAWING BOARD?
Zero Emissions
Director of Environmental Planning at the Port of Long Beach Heather Tomley said, "We are seeing a lot of development in new, cleaner technologies for cargo handling equipment applications." The port, in tandem with its terminal operators, has a variety of demonstration projects in the pipeline. "These projects will put clean-air equipment in real-world situations and demonstrate their effectiveness in handling cargo and in reducing emissions," said Tomley.
Last year, the port began testing nine zero-emission container yard cranes converted from diesel to electric power. Plugged in while in operation (and with a cable reel manager mounted onto the crane), the cranes also have batteries installed on-board so they can move between stacks or to the maintenance facility under battery power. The port already has zero-emission rail-mounted stacking cranes at the Long Beach Container Terminal. It is interested in multiple zero-emission options for operators.
PLASTIC ENERGY CHAINS MAY BE A BEST SOLUTION FOR SUPPLYING POWER TO SHIP-TO-SHORE CRANES
For cranes that are energized via a festoon system, cables hang loose and are exposed to the elements, including wind. They usually require regular lubrication of the cable trolleys, and long travels can require motor and control systems, according to German plastics specialist igus®. Festooned cables can also tangle, requiring additional maintenance. An alternative offered by igus is an energy chain system, durable cable carriers that safely supply energy and data even while under constant motion. And while these systems can be made of steel or plastic, igus markets its plastic carriers for their lack of required maintenance and lower weight. Sean McCaskill is engineered systems manager for energy chain systems at igus. McCaskill said, "One of the unique features of the energy chain system is that your cables only move when the trolley is moving." Even on a windy day. "In comparing a festoon system to an energy chain system, [on a windy day]the energy cables would be swinging in the wind, putting mechanical stresses into your cables…and propagating a system failure. If you were to raise the winds even higher to a storm environment, say hurricane level winds, we would be able to guide and protect your cables and hoses safely there because there is nothing to swing in the wind." Energy chain systems also allow for about 50% less cable length, a pre-determined maximum bending radius and trolley speeds up to more than 32 feet per second over travel distances up to 2,600 feet, according to igus.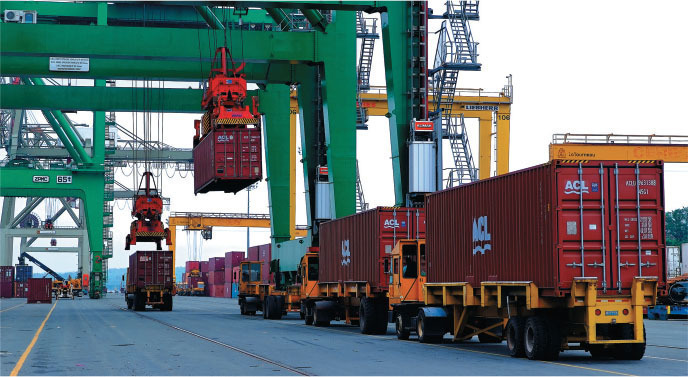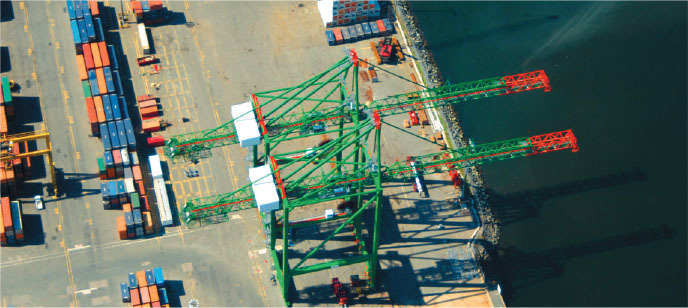 Long Beach is also monitoring the development of new cleaner truck technologies and assessing feasibility, according to a new study released by the ports of Long Beach and Los Angeles in April. The report evaluates availability and/or viability from various perspectives: commercial, technical, operational and cost of owning and operating, and looked at fuel and fueling infrastructure.
Remote Operations
Remote operations are coming to Americas' ports, and lifting specialist Konecranes anticipates many future applications for its remote yard crane operation systems.
"The recent great news here is that we can now remotely operate diesel-powered yard cranes such as RTGs without connecting them with cable," said Tuomas Saastamoinen, senior vice president of sales and marketing of port solutions. Remote operation with wireless connectivity offers safety improvements (via improved control of the container handling process and no operators transiting the yard), and improved productivity (with the remote operator being able to switch between cranes in an instant). When a crane becomes idle, the operator switches to another crane that has work to perform. There are also benefits related to ergonomics, and social/communication improvements, according to Saastamoinen.
THERE IS A NEW WAY TO BUILD DEEP DRAFT PORT STRUCTURES
If a port wants to serve deep draft ships, it must have deep draft port structures.
Houston-based JD Fields & Company, Inc. has a brand new way to help build retaining walls for deep berth structures (more than 50 feet below water), with their innovative new product: HMZZ (high modulus) combined wall systems with patented DIRECT CONNECT™ flange technology.
The very first application in North America of this new product will be at the Port of Seattle. JD Fields was part of the group lead by Orion Marine Construction Group that was recently awarded a $160 million contract for The Northwest Seaport Alliance's Terminal 5 improvements project.
Dean Abbondanza is technical director for JD Fields. He said, "Our company put a great deal of thought into the development of this new product. Unlike any other wall system, this one is very flexible and completely customizable. It doesn't have standardized beam sizes; it can incorporate customized beam shapes and weights."
While other wall systems on the market need connectors to be attached, the DIRECT CONNECT™ flange technology has the interlock system directly manufactured into the flange of the beams. "We do not have to take a separate connector piece and slide it on and weld it – which means we don't add the weight of the connectors. There are engineered savings," said Abbondanza.
Less steel will be needed in this new type of wall system, as well.
This HMZZ wall system offers:
The first and only beam with Larsen interlock hot-rolled flange
No need for weld-on connectors – which means less component parts to supply, fabricate and install
Beam design and fabrication that allows for material grade and weight efficiencies, with better driving integrity
JD Fields is also offering a Custom Wall Design tool. Abbondanza said that since no two wall designs are exactly alike, the tool should prove to be an excellent way to conduct analyses that are project and application specific.
The company anticipates widespread potential from ports that need to deepen berths to accommodate today's deeper draft vessels.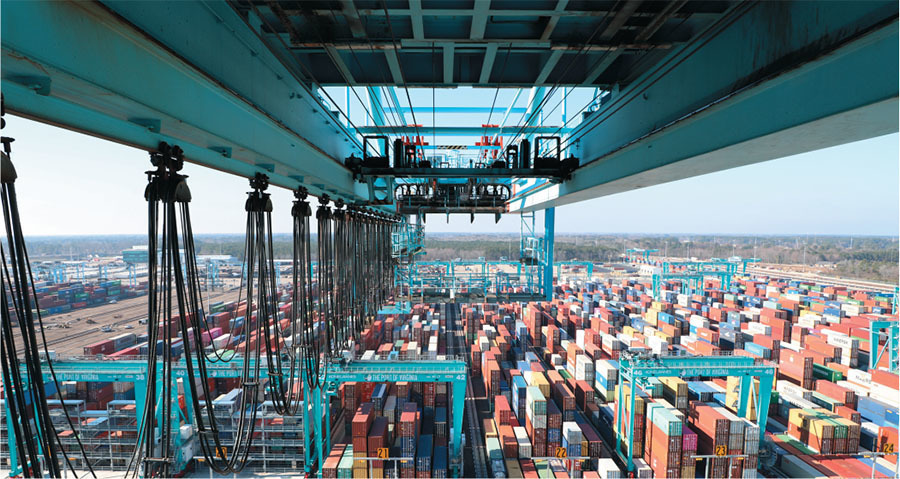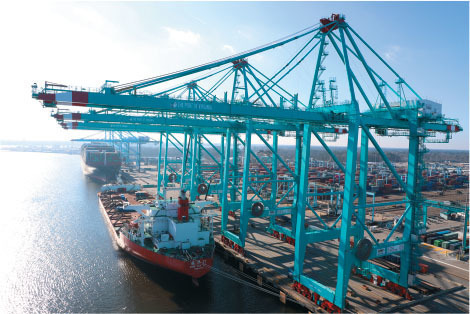 Konecranes offers an active load technology that prevents container sway, helping the remote operator to accurately position the spreader and container. The company is proud of system elements that enable fast container handling reactions, even in remote operation, and that ensure accuracy of gantry and trolley movements with minimal structural sway during stops and starts. Perhaps the most notable benefits are that the existing RTG and RMG cranes can be retrofitted.
PROGRESS ON MULTIPLE FRONTS
Innovative crane and equipment solutions and processes are delivering a multitude of benefits to seaports and their customers, from enhanced safety to improved productivity, and from lower costs to greater velocity and reliability. Many of the innovations also allow more cargo to be handled in a given space, and/or reduce a port's environmental burden.
These are not the cranes and equipment of yesteryear. They are the handling technology of a more connected, more efficient, more environmentally responsible generation of seaports.
ECO-LIFTING IS AN ENERGY-EFFICIENT OPTION FOR PORTS
Konecranes is in the lifting business. It has delivered more than 500 container handling cranes. Its mission to support the environment includes reducing energy use, moving toward renewable energy sources and helping customers such as ports reduce their energy footprints.
Tuomas Saastamoinen is senior vice president of sales and marketing of port solutions at Konecranes. He points to eco-lifting as a way forward for ports. "Eco-lifting is a broad concept, essentially a philosophy, not a single product," he said.
Eco-efficient drives can be incorporated by optimizing diesel drives, putting in place hybrid drives or introducing fully electric drives. These have application for rail-mounted and similar cranes (which can be fully electric with direct connection to the power grid via cable reel), mobile cranes such as RTGs (with a diesel hybrid drive train and requiring temporary connection to the grid) and various types of mobile equipment such as straddle carriers/lift trucks/AGVs (with diesel-hybrid or battery-electric drive trains). Moving forward, Konecranes anticipates that the introduction of Li-ion batteries will help spread eco-lifting to many more applications such as fully-electric drive lift trucks and hybrid-drive material handling cranes (MHCs) among other uses.
Saastamoinen said some of his eco-forward customers include the Port Houston, which has eight hybrid Konecrane RTGs for its Barbours Cut Container Terminal, scheduled for delivery in first quarter 2020, and the Long Beach Container Terminal, which is running Konecranes' Gottwald automated guided vehicles (AGVs) with lead acid batteries.